Press Note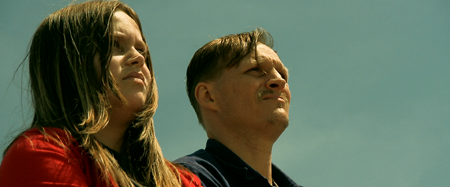 "The house affectionately called ANNELIE by its inhabitants is located on Landwehrstrasse, a deprived area of Munich, where junkies, prostitutes, artists, and big-city bohemians live side by side. The dilapidated former hotel is much more than just the idea and setting for this film. The ANNELIE boarding house is as real as the people and their stories.
Antej Farac, the director and writer of the film, has lived behind the house for years and shared his backyard with ANNELIE's residents. In the immediate neighborhood, he has experienced all kinds of highs and lows, fatalities, and a lot of people down on their luck. Shocked by the extent of poverty and fascinated by the gallows humor of his neighbors, Farac quickly realized that he wanted to draw attention to the situation. His contact with his neighbors began when he started bringing them all sorts of things he was getting rid of, but which he thought they might find useful. The boarders appreciated his efforts and finally decided that he was not a snob. Little by little they started helping out with his projects, starting with photographs and art works, then a documentary about a transsexual boarder, and then finally the feature film ANNELIE.
The confidence he gained allowed Farac deep insight into the social underworld and ANNELIE became a portrait of a world that leaves strong impressions in its wake. The characters were mostly played by real people, apart from the main role, which was played by the latest rising star in the German-speaking countries – Berlinale winner Georg Friedrich. Apart from the end of the film, the director wove together fragments of true stories to make a touching and humorous story. The film is so authentic that it almost hurts and yet it cannot convey the true conditions in the house – because no movie is as hard as life itself.
The boarding house is now gone and its residents were moved to other "adequate" accommodations, with the film ANNELIE being one of the few reminders of the place. Munich's city center is beginning to live up to its image bit by bit and Germany is paying its huge indebtedness with even more debt. This is because Germany, the savior of Europe if one believes the media hype, is not allowed to have poverty. – At least not in the downtown area of its' richest state's capital. The film manages to put a finger on this social wound and expose its current relevance and significance. Just like the rising sun, ANNELIE sheds light on the hidden backyards of Germany and shows the conditions as they really are. It plays like a prelude to the coming crisis and the Greeks and the Portuguese will no longer have to feel so lonely."
Downloads
Right click-> Save as
Presskit_D (.pdf, ca. 10 MB)
Presskit_E (.pdf, ca. 10MB)
HighResImages (.zip, ca. 30MB)