Breakfast at Annelie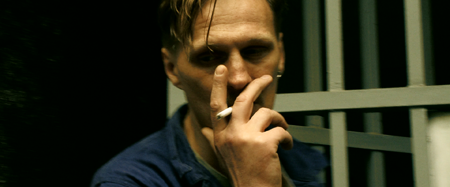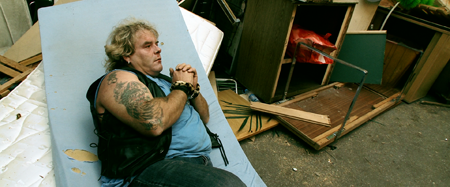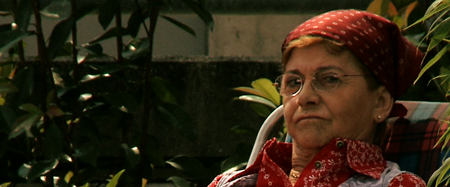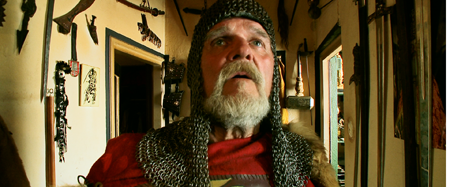 MAX: A decrepit, lovesick junkie. Previously an actor and child star, but now he uses all his talent for begging. He injects his first methadone syringe at 11 in the morning.
FRANZ, the house's free spirit and a hunter with a cowboy ethic. If necessary, he sometimes pulls out all the stops and drinks his milk straight from the carton with the first ray of sunshine.
GÜNI, Franz' best friend and a notorious whiner. The rotting remnant of a playboy whose life is hanging by a single lung, begins his day around 8:00 with a cigarette on the balcony.
GABI and CONTE: Conte, an old lion in the sex trade, and Gabi, the pretty girl-next-door, make for a bizarre couple. Their life centers around the swinger club in the basement of ANNELIE. Before they leave for the city in the morning, they have fresh-squeezed orange juice for breakfast at 9:30. Gabi fries scrambled eggs with bacon and lots of vegetables. Their energy has to last them until late at night.
YOGI and MIMI. Because they can't make a living from the corner shop, Mimi works as a slave in an S&M studio. After her first fag at 7, she takes over the dominant role at home and terrorizes Yogi. He has previously tried to work as a pimp, but had to retire because he could not beat the women. Everything that he does usually goes belly up. He is a KISS fan and drinks his first Underberg at 8.
LAURA, the late bloomer transvestite and Güni's "hottie." Since she writes the letters to government offices for all of the illiterates in the house, she is quite popular. The only currency she accepts as payment for work is a beer. She eats her first schnitzel at 7:30 in the morning.
KIM, the only child in the house. As the daughter of RENATE, the matriarch of ANNELIE, no one would dare touch a hair on her head and she enjoys controlling her uncle. She would like a hot, cooked breakfast, but instead eats whatever she can find in the fridge at 7:20.

STEFAN is the house Nazi. He is the kind of guy who does not like to be told what to do, not even by his Nazi comrades. Peer pressure has never been his thing. Nor has violence, as it turns out; he had enough of that as a child. He eats breakfast at 8, sausage salad without bread and a beer – but only if it says "Brewed under strict compliance with the German purity law of 1516″.

SIREN & SNAKE Siren is the most hated person in the house and is haunted by some evil spirits. Snake is her friend and a junkie. His heroin addiction is a kind of rebellion against the more widespread alcohol. Since they usually argue all night, they're still asleep at this hour and miss morning at ANNELIE.
HEDI, the old woman, comes from a rich Swiss family, but hates them like the plague. She would rather live on welfare in Germany than return to her family. She eats her muesli promptly each morning at 7:00 in order to devote herself to her allotment and her marijuana plants.

HELMUT the Knight likes to wear armor and works as a security guard. Although he does not live in ANNELIE, but just across the street, he has been a part of its scene for years. When Helmut does not have a morning shift, he usually eats breakfast at 9 with a plate of spaghetti Bolognese.

KISS If you don't know anything about KISS, you should try googling. They don't have to worry about their breakfast.